Unclaimed property legislation and regulations are constantly changing. Sovos's Compliance Portal provides the tools needed to stay up to date with this ever-changing world of unclaimed property and ensure compliance. Sovos's Compliance portal is a subscription-based service which includes access to multiple educational and operational resources that are continuously monitored and updated by the compliance experts at Sovos. Subscriptions to our Compliance Portal can be customized to suit your company's unique business needs and compliance objectives.
Below you will find a small sampling of the items contained within our Compliance Portal. If you are interested in obtaining full access to our services, please contact us for further information.

Recent Legislative Alerts
| Jurisdiction | Title | Last Published |
| --- | --- | --- |
| Delaware | DE S 104 Enacted | 7/2/2021 |
| Delaware | DE S 103 Enacted | 7/2/2021 |
| Ohio | OH H 348 Introduced | 6/18/2021 |
| Oregon | OR S 209 Enacted | 6/18/2021 |
| District of Columbia | DC B 24-0285 Introduced | 6/18/2021 |
UP Newsletter, our industry leading compliance newsletter, eases the burden of tracking the various escheat laws by state by providing an in-depth view and analysis of unclaimed property regulations and state escheatment laws. UP Newsletters also includes editorial coverage of ongoing legislation changes, legislative summaries of escheat rules by state, guest columnists from state and industry professionals, Q&A sessions, continuous interpretation and recommendations to effectively comply with unclaimed property laws while increasing your company's bottom line.
KeaNotes - Latest Edition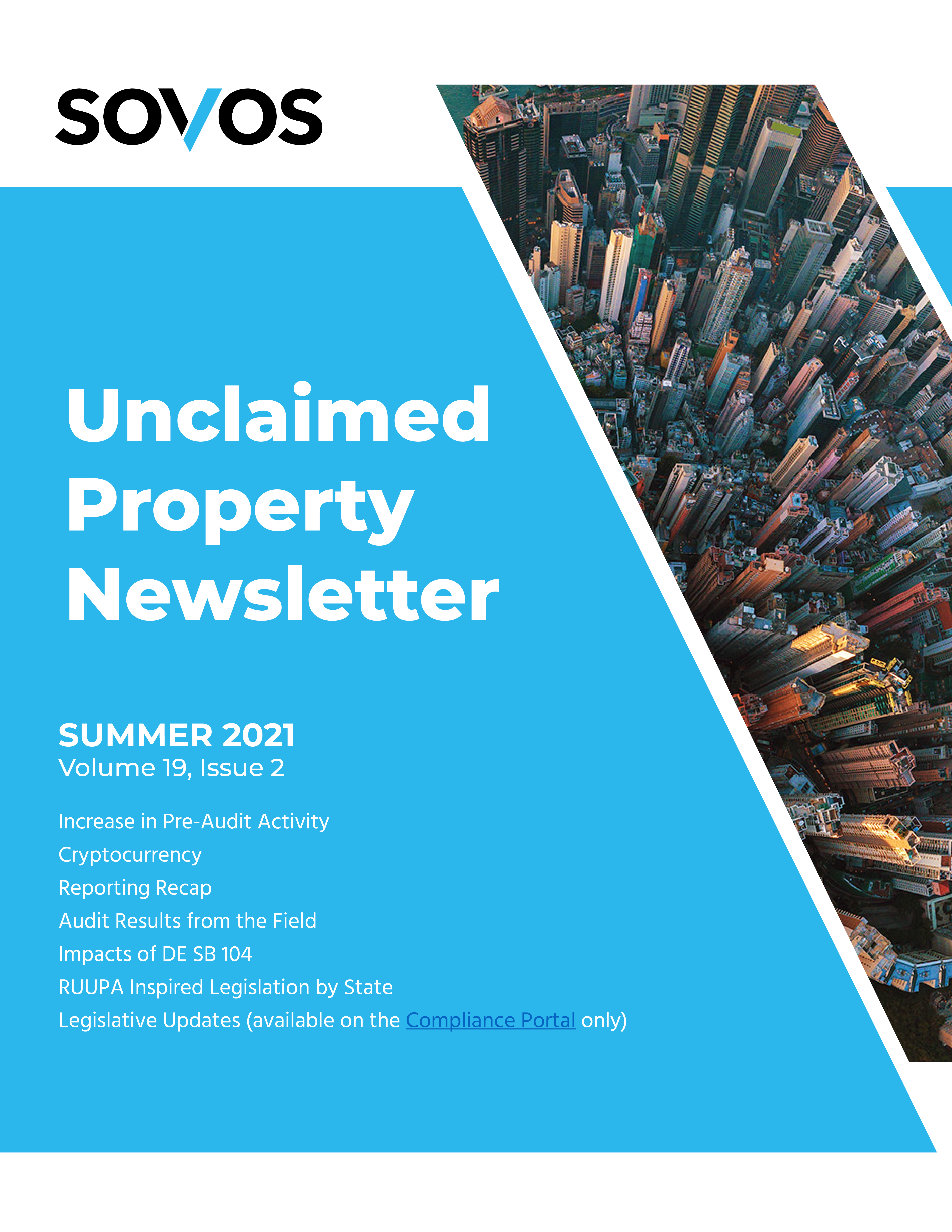 Click to see more
Our Summer 2021 issue of Sovos Unclaimed Property Newsletter is now available. In this edition we cover unclaimed property compliance updates, success stories, best practices and more. 
Subscribers
Contact Us
Are you interested in receiving information on Sovos's Compliance Portal? Contact a Sovos representative for details today.